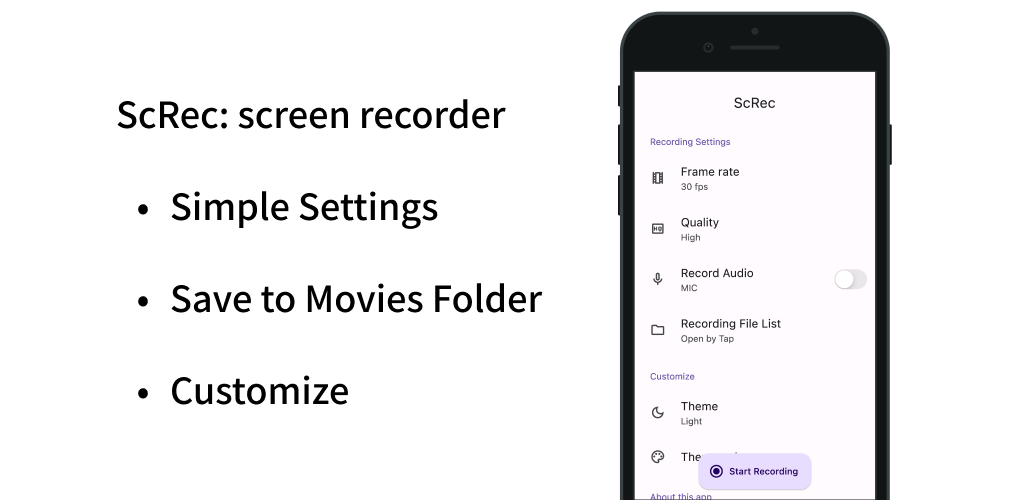 A simple screen recording app.
You can set the frame rate, image quality, and whether or not to record.
Recorded files can be viewed within the app and can be opened in other apps.
Functions/Features
Screen recording
Frame rate setting (24, 30, 45, 60fps)
Quality setting (low, medium, high, highest)
Automatically calculate bitrate (based on screen size, frame rate setting, quality setting)
Set recording audio (microphone) on/off
Press the button at the bottom of the app to start/stop recording
End recording from notification
Show list of recorded files
View recorded files in other apps by tapping the list in the recorded file list
Save a recording file to Movies folder
Customization (dark mode, theme color)
Simple design based on Material Design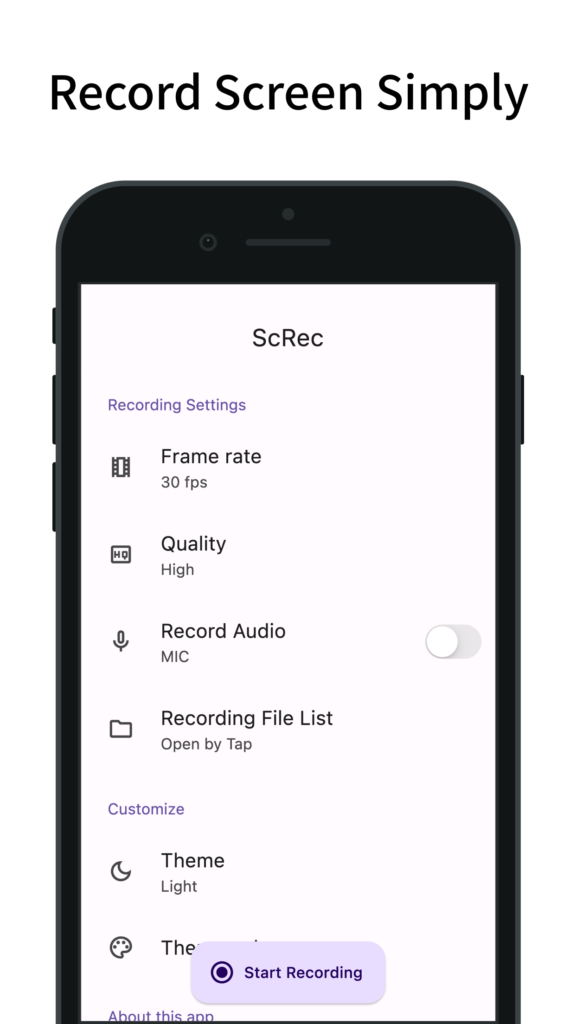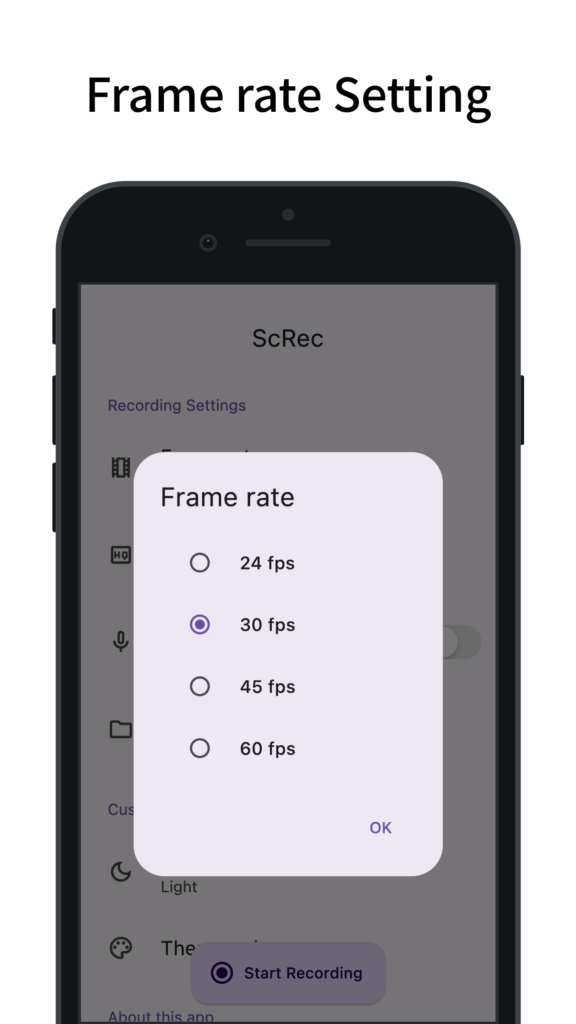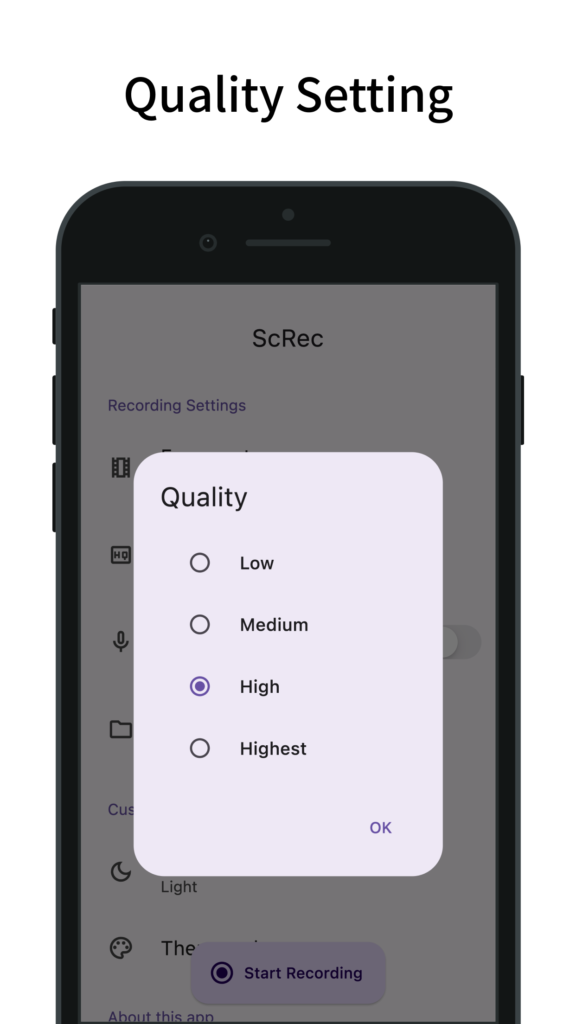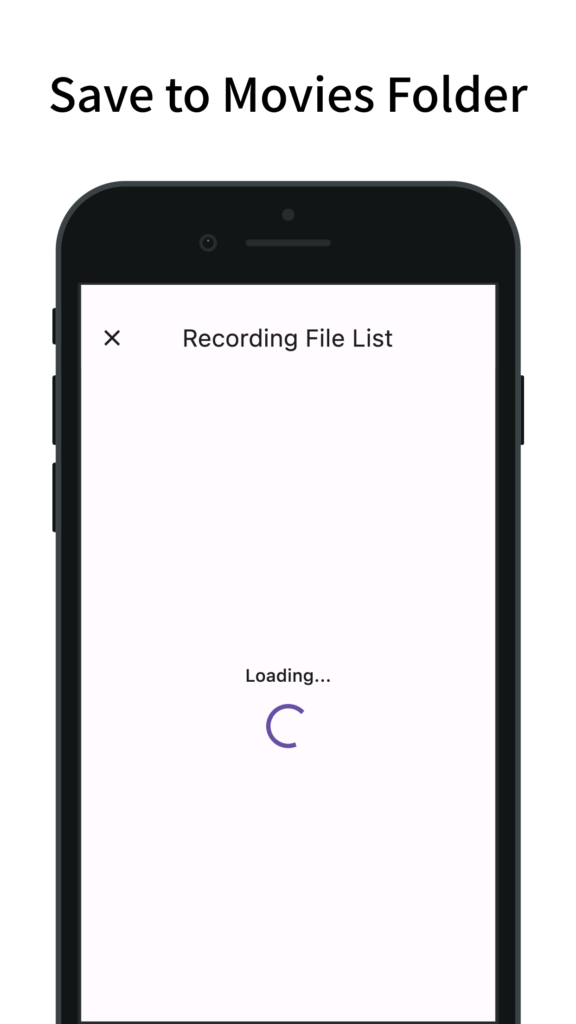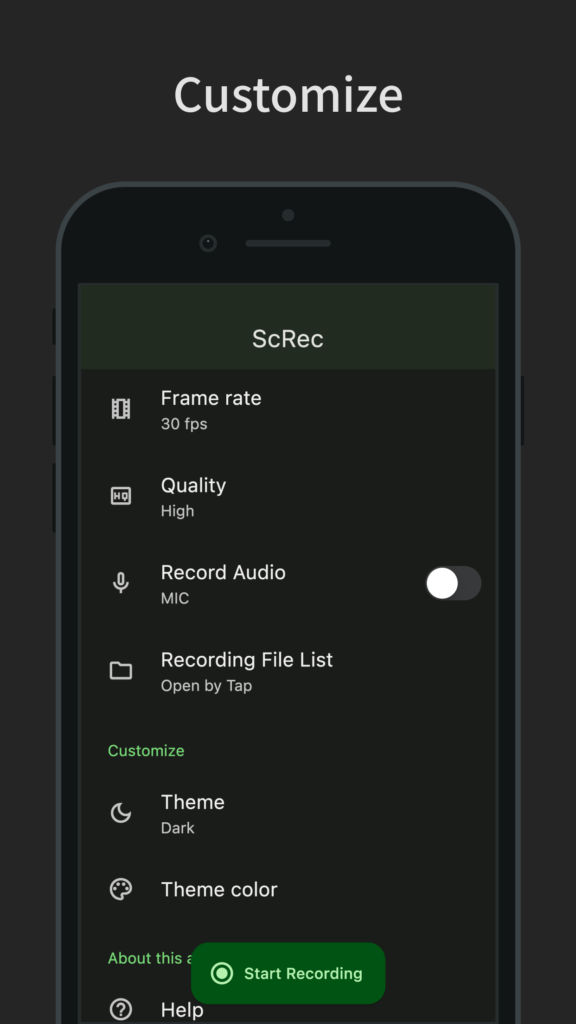 About Quality (Bit rate)
Quality can be selected from Highest, High, Medium, and Low.
The Quality setting is related to Bit rate value.
In this app, the bit rate value is determined by the following formula
Bit rate (bps) = BPP (Bits Per Pixel) x Frame rate x width x height
The BPP value ​​is set to 0.2 for Highest, 0.15 for High, 0.1 for Medium, and 0.05 for Low.
For example, if your device has a 1080×1920 display and you set the Frame rate to 30fps, and the Quality to High, the bit rate (bps) will be
0.15 x 30 (fps) x 1080 x 1920 = 9,331,200 (≒ 9Mbps)
The higher the bit rate, the better the quality, but the larger the amount of recorded data.
Where to save recording files
Recording files are saved in the ScRec folder inside the Movies folder.
You can check the recorded files in this folder by tapping "Recording File List" in this app.
By tapping the list on the recorded file list page, you can display the recorded file in other apps.
Notes
If you want to record in horizontal screen, please start recording after setting this app (ScRec) to horizontal screen.
Do not delete this app (ScRec) from app history while screen recording.
Recording for a long time is not recommended as it may force the recording to end.
Depending on devices, recording may not be worked properly. Please use the app after trying once to see if you can record properly.
---